Struggling to identify that wood burner or multi-fuel stove in your living room? Perhaps you have moved into a property and have no record of the appliance you have inherited? Rather than spend hours trawling through the internet trying to match pictures, why not let us help you? Simply email us a picture, with as many of the below details as possible and we'll do the rest. We cant guarantee we can determine an exact model, but there aren't many stoves our experts can't ID.
SERVICE UPDATE:  Owing to the number of Chinese stoves entering the UK market, we are being flooded with requests to identify Chinese imports. These stoves are imported in bulk and sold through platforms such as eBay and have little or no branding. As we neither sell nor supply parts for Chinese stoves, we have temporarily suspended this service for stoves purchased online. Please contact the online retailer the stove was purchased from for details on spares. 
If you have purchased your stove through a reputable stove showroom, or have moved into a new property, please send your pictures to the below link.  
Click here to send us your pictures:  (NB Try to keep messages below 5 Mb – even if it means sending two emails) 
How to identify your stove.
If you need to identify a wood burner or multi-fuel stove, then the key information you are looking for is…
Stove Manufacturer, e.g Aarrow
Model Name / Number, Becton 7
Serial Number (where applicable), 07T 133
The location of this information will vary depending on the manufacturer. In most cases it can be obtained from the stove and/or in the operating and instruction manual that came with the appliance. Most manufacturers now use Serial numbers or have some form of data plate on their appliances – usually hidden from front view. If you can't identify your stove, the three more common places these data tags can be found are the sides, rear or undersides of the stoves. These plates will normally give you sufficient information, however, depending on which part you require it may be necessary to ask further questions such as 'Is it a boiler model'? or 'Fuel Type'?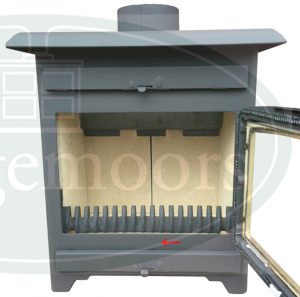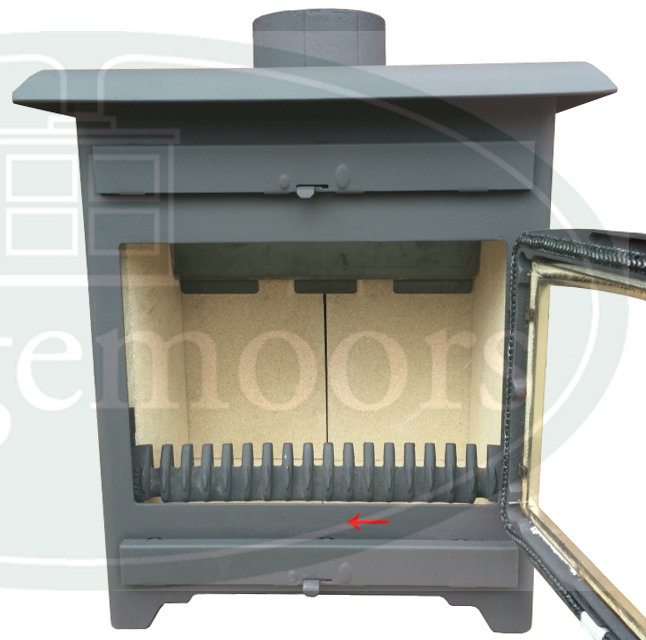 Other useful information
Sometimes information is limited, especially with older appliances, or when the stove has been inherited in a property. Therefore, it may be difficult to identify your stove. Below are some other methods we can use to pinpoint a manufacturer or model. This is not an exact science and information gathered should be taken accordingly.
Size of door glass panels. See our handy stove glass guide.
Single or Double Door Model.
Any distinctive features or markings (e.g Yeoman stoves have a Tudor Rose on them)
Approximate age of the appliance.
Casting numbers (But not patent or British standard numbers)
Design and layout of Internal components
Photographs and pictures
Look at current wood burners for similarities
Unfortunately, we are unable to determine the details of a stove from its size.