If you are a Woodburner or Multi-Fuel stove owner, chances are at some point you will need to replace the Stove Glass. In fact, Glass is the most requested spare part for the majority of stoves out on the market. For this reason, at Rangemoors, we stock over 200 glass lines ready for immediate despatch. In this section we'll address FAQs, help you measure your glass and order the correct part. Finally, we'll also give you our top tips on how to fit your stove glass correctly.
Start your glass search here
I know the manufacturer and/or model of my stove. Great! Click here >
I don't know the make/model, but I have dimensions of the glass. Use our glass search tool to the left (on PC), or at the bottom of the page (on Tablet or PC).
Why has the glass in my stove broke?
Believe it or not, the most common failure for glass is not through impact, but by poor fitting. Stove glass is not toughened. Therefore, if it suffers reasonable impact, it is liable to crack or break. Although appropriate glass is heat resistant, it still expands and contracts with heating and cooling. Accordingly, if it heats too quickly it can crack. Similarly, if clips are over tightened, or debris is not removed, then as the glass expands it cracks at the pinch point. If a crack originates from a fixing point or clip, that is where the fault lies.
Why does the glass in my stove look scratched / gone cloudy?
A scratched effect (also referred to as a spiders web) which appears on the glass is known as Crazing. This is attributed to poor quality fuel – in particular, coal with a high sulphur content. Whilst it can look unsightly, it does not necessarily require the glass to be replaced immediately. With improvements to fuel quality, this is rarely seen nowadays. However, if you experience crazing or cloudy glass, then check your fuel.
How to measure your stove glass.
All our glass measurements are the full physical size of the panel and not the aperture in the door. This will require measuring from the back of the door, so ensure everything is suitably cooled before proceeding. For simple, square or rectangular shapes, simply obtain the height and width. For shaped or curved stove glass, take the max width and the height from the centre of the base to the top of the arc. Once you have these details, feed them into our glass search box (LHS), select the shape and see what results pop up! If the glass is missing or has smashed rough dimensions can be obtained by measuring the recess. Dimensions obtained this way should be used cautiously.
If your glass size cannot be found using our search, or it is an odd shape, we can cut to size. Simply email us over with the width and height and we'll quote accordingly. If the glass is shaped we require a 1:1 template posted to us. Glass cut to size or template cannot be returned under any circumstances.
Glass measurements are often a good factor in identifying your stove. If you know the manufacturer of your stove, you are half way there! You can search glass by manufacturer here.
Top Tips for fitting stove glass.
Fitting procedures may vary between stove manufacturers. Always follow the manufacturers instructions which take precedence over the below, which is only a rough guide.
Order your new stove glass here
Wait until the stove is suitably cooled.
Wearing appropriate gloves, remove broken glass and dispose responsibly.
If possible, remove door and lay on a suitable, clean, flat surface.
Remove clips or fixings and any remaining glass.
Clean the door with a stiff or wire brush ensuring all dirt and old gasket are gone.
If there is no specific gasket available, you can find a selection of universal glass gasket materials here.
Replace the glass
Replace fixings – ensuring they are only done up finger tight. Over tightening of screws will lead to failure of glass. Glass should be firm enough to be air tight, but have enough cushion to expand. This is why many fixings are sprung.
Replace door and perform a visual inspection.
Gently re-fire the stove back up to temperature.
We have a variety of glass cleaning products to maintain the perfect fire view.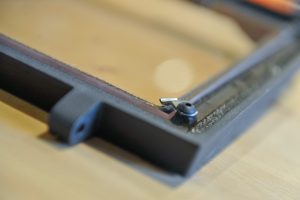 How will my glass be delivered?
Glass will generally be delivered by a courier. Don't worry though, we have extensive experience in safely packaging and shipping stove glass. You would be surprised how few damages we get. However, if it does break in transit, provided you comply with our damages policy, we will resolve it.
My Glass size isn't listed?
We have hundreds of glass sizes listed online, but this is by no means an exhaustive list. We can source hundreds more and even cut to size. Where the shape is square/rectangular a price can be provided upon request. For shaped pieces a 1:1 template needs to be posted to us for an accurate quote. When glass is cut to size or template, this is strictly non returnable.