Ultimate Woodburner Accessories Guide
At Rangemoors, we want you to get the very most out of your woodburner, that's why we have created our 'Ultimate Woodburner Accessories Guide'. We take you through the must have items all woodburner owners should have, or at least consider. From products which maintain your appliances performance, to those which protect you the user. What's more, most of these items are available to buy from our website, with many at discounted rates. Check out our list below and click on the headers to view any products which take your interest.
See here for a full comprehensive list of our sundry items and stove accessories.
Check out our special offers here.
Rangemoors Top 10 Woodburner Accessories
We start our Ultimate Woodburner Accessories Guide with this essential piece of equipment. Whilst all the other items in this list will help you enjoy and get the most out of your appliance, a Carbon Monoxide alarm may just save your life. All new installations should have a Carbon Monoxide alarm fitted in accordance with building regulations. However, it is also important to regularly check these units and replace as and when necessary.
Many problems experienced by woodburner owners are related to poor fuel. Wet or unseasoned wood is a definite no-no. Not only does it lead to poor fuel efficiency and performance, but it can also cause a whole host of other issues. For example, creosote and soot build up in the chimney – leading to blockages, blackening of the glass etc. We recommend that all wood be seasoned for 2 years and have a moisture content of less than 20%. The only way to check the moisture content of your wood is with a moisture meter. They are simple to use and don't cost the earth. What's more, if you buy wood by weight, you can check you are getting fuel for your money and not water.
A Flue Thermometer is a great way of monitoring the operating temperature of your woodburner or stove. Most come with an easy to read display showing optimal temperature ranges. It will also indicate if the appliance is burning too hot or is slumbering (Under firing). By keeping your woodburner within the correct temperature range you can avoid burning out internal parts by over firing and prevent issues such as condensation and flue issues by slumbering.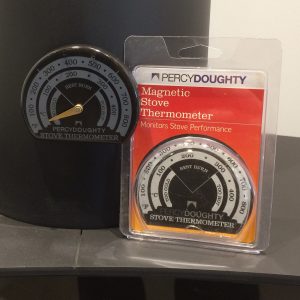 You do not need to remove ash in a woodburner as regularly as a coal burning stove. Wood burns best on its own bed of ash, so you can allow a certain amount to build up. Over time though this will need to be emptied and you will need a safe place to store and transit the ash. A Tippy Ash Carrier prevents ash falling onto carpets and blowing in your face when you open your front door.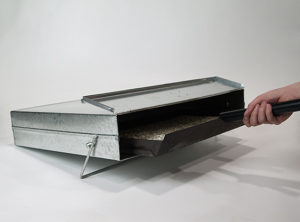 If you have a woodburner, you'll want to invest in a decent pair of heat resistant gloves to protect your hands. Whether you are opening the stove door, adding fuel or removing an ash tray, a pair of gloves will always be handy.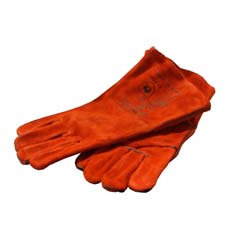 The modern trend in woodburner design is to have as large a viewing area of the flames and fire as possible. Nobody wants to curl up in front of a woodburner and not be able to see the relaxing flickering of flames. If your are using the appliance correctly and with seasoned logs, then in most modern appliances your glass should not blacken. But, if your stove glass does blacken up, a wet cloth dipped in the ash will clear away most deposits. For more stubborn stains and deposits we suggest a dedicated glass cleaning product such as Dirtbusters.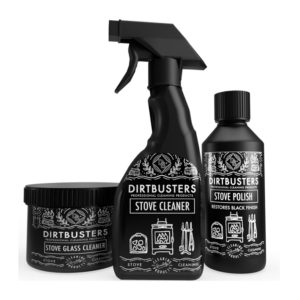 If you experience cold spots in your living room when the fire is lit, an Ecofan might just be the perfect solution. Ecofan's gently and silently circulate the heat generated from your woodburner equally around the room. What's more, an Ecofan runs solely off the heat on top of the stove and does not require additional power or batteries. So, once the initial outlay is made, there is very little in the way of additional cost and will save you money on fuel over time. There are many fans on the market and it can be confusing. At Rangemoors we choose to stock the Ecofan brand as they were the original, and in our opinion, the best fans on the market. These fans may not be suitable for all installations and situations, please check if unsure.
Everyone has there own preferred way of lighting their fire. But, unless you're a keen survivalist who can start a fire by rubbing sticks together, chances are you're going to need some firelighters. There are a wide range of firelighters on the market to suit different preferences and budgets. We prefer those lighters which are natural, sustainable, easy to use and are odourless. See our firelighters of choice here.
Log Basket.
Once you've settled in for the evening around the fire, the last thing you will want to do is go outside in the cold to fetch logs. Some woodburners now come with log stores built in underneath or have optional benches which allow you to store logs underneath. If not, then a log basket is great for storing logs so they're ready as and when you need them. We have a wide range of baskets in our showroom to suit all budgets and needs.
No woodburner accessory guide would be complete without mentioning those products necessary to keep your hearth tidy. You will want to consider tongs, pokers, brushes and pans all useful for keeping the area around your woodburner clean. We stock a wide range of fireside tidies, companion sets and tools  in our Winkleigh showroom.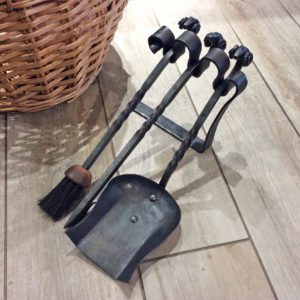 So there you have it, our Ultimate Woodburner Accessories Guide. Think we have missed something? Email us your suggestions here. 
Like this article? See more helpful stove related guides and help topics via the 'Help & FAQ' tab at the top of the home page.